Stoneboat Pinot Club
---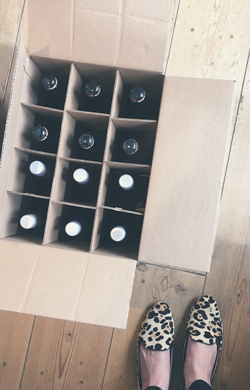 Become Part of the Stoneboat Family.
As a Stoneboat Pinot Club Member you will receive a curated selection of wines in your club shipments, first access to limited small lot wines and library releases, and Pinot Club benefits when visiting the winery.
Three scheduled, fully customizable* 6 bottle shipments per year*
10% off all purchases, including wine, club shipments, and merchandise
Complimentary tastings for you and up to 5 guests
Free shipping on any orders of 12 bottles or more to all provinces
Priority access to library wines and limited releases
No membership or cancellation fees, however, a one year (3 scheduled shipments) commitment is required.
*Selections can be edited, but edits must be made within the time frames sent out in the club emails (generally there will be a 7-10 day window). You will receive an email with instructions of how to edit selections, or you can always call the wineshop for assistance. Each curated 6 pack is different and will range in price from approximately $125 - $195.
Next shipment in July 2023!

Pinot Club FAQ's:
- Can I just buy 18 bottles now and be done for the year? Although the club is customizable, the best part of the club is discovering new wines such as our club exclusive releases, so you do have to take the 3 scheduled shipments each year.
- So I just have to order 3 times in the next year? The club shipments are scheduled and you'll receive an email for each shipment with the details of it's contents, as well as instructions of how to edit or add to your shipment. You're welcome to order in between these club shipments as often as you like, but these 3 scheduled shipments are part of your club commitment. They occur in March, July, and November.

- Can we take our wine now? Most of the time we can't release shipments early, since the club shipments usually include new releases that we don't have on site ahead of time.

- If you're running low on something, can you set some aside for me/ ship it with my club shipment/ save me some? As our small club has grown, we've had to move to offsite packing since we don't have the space in our little wineshop anymore. This means that only the items you've selected in your club list (sent out in the email at the beginning of each club cycle) are able to be shipped with your club shipment.

- Can I cancel anytime? After your initial 3 shipments have been fulfilled, you can cancel anytime - just call/email us. Your membership will simply continue to renew until you request otherwise.

- I travel a lot - can I skip a shipment? Yes absolutely, but you need to let us know before your club shipment is processed.

- I'm a pickup customer, how long can you hold my wine at the winery? After two weeks, we will ship it to you at your cost unless you've made specific arrangements ahead of time.